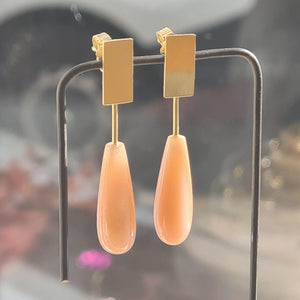 Elegante halvlange øreringe med smukke lys rosa/ferskenfarvede månesten. Klassiske og alligevel anderledes. Der er en fin kontrast mellem den matte firkantede guldplade, "stilken" og den blanke dråbeformede sten. Spillet mellem form og overflade giver kant til disse smukke øreringe i ædle materialer. 18kt guld og rosa månesten (farven kan variere fra billedet) Sælges som sæt inkl. bagmekanik i 18kt guld. 
Øreringene kan bestilles med andre farver og typer af sten - kom forbi, eller ring og hør om mulighederne. Det er også muligt at få tilpasset længden så de passer præcist til din hals og øre - kom forbi butikken for at prøve og få taget mål. 
Elegant earhangers in 18ct. gold with peach moonstone or other colours to order. price is for a pair.