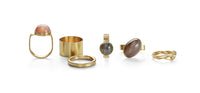 VELKOMMEN TIL frø JEWELLERY
Smykker af Louise Frølund Bech. Lavet i hånden - med opmærksomhed på rene linjer, smukke materialer og godt håndværk. Jeg arbejder i ædle metaller og sten og bruger kun genbrugsguld og sølv. Kontakt mig gerne for en snak om særlige ønsker og designs af f.eks. forlovelsesringe og vielsesringe, eller kig ind i værkstedet på Nørrebro.
Louise Frølund Bech is the designer and maker of all items at frø. The pieces from frø are simple, yet intricate and made with love and attention to detail and craftmanship. All pieces are handmade from recycled prescious metals and handpicked stones at the artists workshop in Copenhagen.

Du kan se flere designs og bestillingsopgaverher:                     https://www.facebook.com/froejewellery/
https://www.instagram.com/froejewellery/