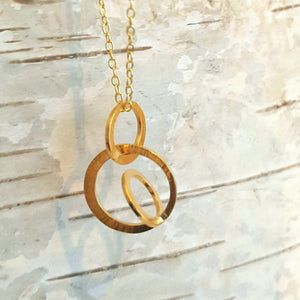 Denne variant har jeg desværre først d. 6 december - men  du kan godt bestille med det samme.

vedhæng i forgyldt sterling sølv
vedhænget hører til galaxy-serien og består af tre cirkler der krydser hinanden. De er inspireret af galakser, hvor himmellegemer kredser om hinanden, bundet sammen af tyngdekraften. Her kredser cirklerne om hinanden og reflekterer lyset smukt imellem bevægelighed og balance. Kæde i sølv eller sortoxideret sølv medfølger. Du kan selv vælge farve og længde.
 mål: ca. 13 mm. i diameter
Pendant in godlplated sterling silver.
This piece belong to the series Galaxy.
The pendant is made up of tree circles that cross each other. They are inspired by stars orbiting their galaxy's centre of mass. Here the circles orbit each other, beautifully reflecting the light in there subtle movement. At check out can choose between a silver or black-oxidized silver chain and betwen 45 and 60cm.

measure: aprox. 13 mm. dia.