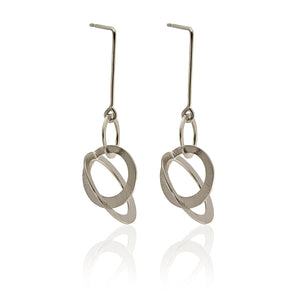 Ørehængere i
sterling sølv
Disse ørehængerne hører til galaxy-serien. Hver ørehænger består af tre cirkler skåret ud af hinanden, og hvis indre diameter er lykketallene 7, 9 og 13 mm. De er inspireret af galakser, hvor himmellegemer kredser om hinanden, bundet sammen af tyngdekraften. Her kredser cirklerne om hinanden og reflekterer lyset smukt imellem bevægelighed og balance.
 mål: ca.18 mm. i diameter
Ear hangers in sterling silver.
These pieces belong to the series Galaxy.
Each ear hanger is made up of tree circles that fit inside each other, and have the inner diametre of 7,9 and 13 mm, which are lucky numbers. They are inspired by stars orbiting their galaxy's centre of mass. Here the circles orbit each other, beautifully reflecting the light in there subtle movement.

measure: aprox. 18 mm. dia.